The Greatest Showman 2017 ITALiAN DVDRip X264 MP4-CaMik
TORRENT SUMMARY
Status:
All the torrents in this section have been verified by our verification system

Category:
Movies
Size:
464.5 MB in 1 file
Grabbed On:

13-07-2018

from a torrent source
Swarm:
0 Seeds & 0 Peers
Vote:
No votes yet.
DESCRIPTION
GENERE: Biografico, Musicale, Drammatico
ANNO: 2017
REGIA: Michael Gracey
ATTORI: Hugh Jackman, Rebecca Ferguson, Zendaya, Zac Efron, Michelle Williams, Yahya Abdul-Mateen II, Paul Sparks, Diahann Carroll, Fredric Lehne, Tina Benko, Doris McCarthy
PAESE: USA
DURATA: 105 Min

.:: TRAMA ::.

Numeri poderosi e coreografie sgargianti si mescolano nello spettacolo ottocentesco che prende il nome di The Greatest Showman, il biopic musicale con Hugh Jackman nei panni dell'abile intrattenitore di folle P.T. Barnum. L'astuto impresario circense, entrato in affari col giovane Phillip (Zac Efron), ha per le mani il rivoluzionario progetto di un enorme circo a tre piste, con quattro palcoscenici e ventimila posti a sedere. Gli ambiziosi uomini d'affari si lanciano con entusiasmo nella realizzazione del sontuoso spettacolo, che porta in scena nuove acrobazie e fenomeni da baraccone mai visti prima, finché entrambi non si infatuano di due giovani stelle del palcoscenico.
Phillip si perde tra i volteggi e le giravolte della sensuale trapezista Anne (Zendaya), mentre Barnum viene stregato dal dolce canto dell'artista Jenny Lind (Rebecca Ferguson), la timida soprano nota al pubblico come "usignolo svedese", per la voce cristallina che arriva dritta al cuore.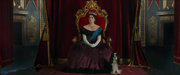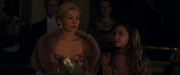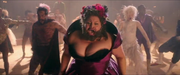 .:: AVINAPTIC ::.

[spoiler]

[ Info sul file ]

Nome: The.Greatest.Showman.2017.iTALiAN.DVDRip.x264.MP4-CaMik.mp4
Data: Wed, 25 Apr 2018 15:29:00 +0200
Dimensione: 487,067,536 bytes (464.503799 MiB)

[ Magic ]

Tipo file: ISO Media, MPEG v4 system, version 2

[ Info generiche ]

Durata: 01:40:33 (6032.96 s)
Contenitore: MP4/MOV
Major brand: ISO Base Media version 512
Compatible brands: JVT AVC
Data di creazione: Tue, 24 Apr 2018 19:22:30 +0200
Data di modifica: Tue, 24 Apr 2018 19:22:30 +0200
Totale tracce: 2
Traccia n. 1: video (avc1) [VideoHandler]
Traccia n. 2: audio (mp4a) [Stereo]

[ Dati rilevanti ]

Risoluzione: 720 x 428
Larghezza: multipla di 16
Altezza: multipla di 4
DRF medio: 24.35615
Deviazione standard: 5.124108
Media pesata dev. std.: 4.988727

[ Traccia video ]

Codec: avc1
Risoluzione: 720 x 428
Frame aspect ratio: 180:107 = 1.682243
Pixel aspect ratio: 64:45 = 1.422222
Display aspect ratio: 256:107 = 2.392523
Framerate: 25 fps
Bitrate: 511.729295 kbps
Durata: 01:40:33 (6032.96 s)
Qf: 0.066424

[ Traccia audio ]

Codec: mp4a
Bitrate: 128.033083 kbps
Tipo di bitstream (bs): AAC LC (Low Complexity)
Frames (bs): 282,747
Durata: 01:40:32 (6031.936 s)
Chunk-aligned (bs): Sì
Bitrate (bs): 128.033083 kbps VBR
Freq. campionamento (bs): 48000 Hz
Modo (bs): 2: front-left, front-right

[ Bitstream video ]

Tipo di bitstream: MPEG-4 Part 10
User data: x264 | core 148 r2708 86b7198 | H.264/MPEG-4 AVC codec
User data: Copyleft 2003-2016 | http://www.videolan.org/x264.html | cabac=1
User data: ref=3 | deblock=1:0:0 | analyse=0x1:0x111 | me=hex | subme=7 | psy=1
User data: psy_rd=1.00:0.00 | mixed_ref=1 | me_range=16 | chroma_me=1
User data: trellis=1 | 8x8dct=0 | cqm=0 | deadzone=21,11 | fast_pskip=1
User data: chroma_qp_offset=-2 | threads=12 | lookahead_threads=2
User data: sliced_threads=0 | nr=0 | decimate=1 | interlaced=0
User data: bluray_compat=0 | constrained_intra=0 | bframes=3 | b_pyramid=2
User data: b_adapt=1 | b_bias=0 | direct=1 | weightb=1 | open_gop=0 | weightp=2
User data: keyint=250 | keyint_min=25 | scenecut=40 | intra_refresh=0
User data: rc_lookahead=40 | rc=abr | mbtree=1 | bitrate=512 | ratetol=1.0
User data: qcomp=0.60 | qpmin=0 | qpmax=69 | qpstep=4 | vbv_maxrate=10000
User data: vbv_bufsize=10000 | nal_hrd=none | filler=0 | ip_ratio=1.40
User data: aq=1:1.00
SPS id: 0
Profile: [email protected]
Num ref frames: 4
Aspect ratio: Custom pixel shape (64:45 = 1.422222)
Chroma format: YUV 4:2:0
PPS id: 0 (SPS: 0)
Tipo di codifica entropica: CABAC
Weighted prediction: P slices - explicit weighted prediction
Weighted bipred idc: B slices - implicit weighted prediction
8x8dct: No
Totale frames: 150,824
Drop/delay frames: 0
Frames corrotti: 0

P-slices: 44056 ( 29.210 %) ######
B-slices: 104765 ( 69.462 %) ##############
I-slices: 2003 ( 1.328 %)
SP-slices: 0 ( 0.000 %)
SI-slices: 0 ( 0.000 %)

[ Analisi DRF ]

DRF nedio: 24.35615
deviazione standard: 5.124108
max DRF: 42

DRF=1: 2 ( 0.001 %)
DRF=2: 2 ( 0.001 %)
DRF=3: 5 ( 0.003 %)
DRF=4: 6 ( 0.004 %)
DRF=5: 28 ( 0.019 %)
DRF=6: 87 ( 0.058 %)
DRF=7: 100 ( 0.066 %)
DRF=8: 287 ( 0.190 %)
DRF=9: 444 ( 0.294 %)
DRF=10: 489 ( 0.324 %)
DRF=11: 321 ( 0.213 %)
DRF=12: 563 ( 0.373 %)
DRF=13: 673 ( 0.446 %)
DRF=14: 1137 ( 0.754 %)
DRF=15: 1667 ( 1.105 %)
DRF=16: 2557 ( 1.695 %)
DRF=17: 3695 ( 2.450 %)
DRF=18: 5148 ( 3.413 %) #
DRF=19: 6696 ( 4.440 %) #
DRF=20: 8492 ( 5.630 %) #
DRF=21: 9975 ( 6.614 %) #
DRF=22: 11512 ( 7.633 %) ##
DRF=23: 12462 ( 8.263 %) ##
DRF=24: 11813 ( 7.832 %) ##
DRF=25: 12060 ( 7.996 %) ##
DRF=26: 9986 ( 6.621 %) #
DRF=27: 9624 ( 6.381 %) #
DRF=28: 8673 ( 5.750 %) #
DRF=29: 7677 ( 5.090 %) #
DRF=30: 6442 ( 4.271 %) #
DRF=31: 5035 ( 3.338 %) #
DRF=32: 4798 ( 3.181 %) #
DRF=33: 3232 ( 2.143 %)
DRF=34: 2132 ( 1.414 %)
DRF=35: 1300 ( 0.862 %)
DRF=36: 796 ( 0.528 %)
DRF=37: 560 ( 0.371 %)
DRF=38: 212 ( 0.141 %)
DRF=39: 52 ( 0.034 %)
DRF>39: 29 ( 0.019 %)

P-slices DRF medio: 22.815122
P-slices deviazione std.: 4.745256
P-slices max DRF: 42

B-slices DRF medio: 25.091185
B-slices deviazione std.: 5.093487
B-slices max DRF: 41

I-slices DRF medio: 19.805791
I-slices deviazione std.: 4.864487
I-slices max DRF: 34

[ Conformità al profilo ]

Profilo selezionato: MTK PAL 6000
Risoluzione: Ok
Framerate: Ok
Min riempimento buffer: 79%

Rapporto creato da AVInaptic (18-12-2011) in data 25-04-2018 15:44:02

[/spoiler]
VISITOR COMMENTS (0
)
FILE LIST
Filename
Size
The.Greatest.Showman.2017.iTALiAN.DVDRip.x264.MP4-CaMik.mp4
464.5 MB